In partnership with Monroe County, United Way of Greater Rochester and the Systems Integration Project have launched a Human Services Support Hub in response to COVID-19. The hub triages emergent issues and provides an online resource by sharing vital information, strategic guidance and other supports to local human service agencies that are navigating increased needs and operational challenges.
Are you a part of a Human Service Agency serving our region?
Email covidresponse@unitedwayrocflx.org to request access to the Human Services Support Hub. You will receive an email shortly after your request letting you know how to get started. 
Review the Mighty Networks Quick Start Guide here.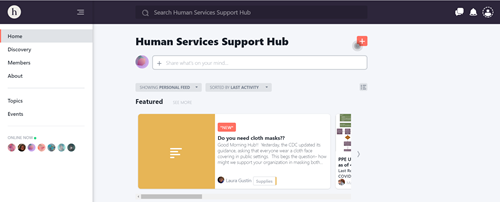 HAPPENING ON THE HUB
More than 750 agencies are active users on the Mighty Networks online community participating in real-time problem solving and information sharing.  
Nonprofits are able to submit requests for items (such as hygiene supplies, cleaning supplies and technology needs) from United Way's centralized warehouse for critical supplies. 
Equipment was secured and deployed so nonprofits can continue operations, including laptops for remote intake, continuity of mental health treatment, and important communications linking consumers to basic needs.    
United Way worked with Black Button Distillery to purchase much-needed hand sanitizer that we delivered to nonprofits.