United way announces new addition to million dollar roundtable
The Judsons of Pike Construction Services' investment in United Way reaches $1 million.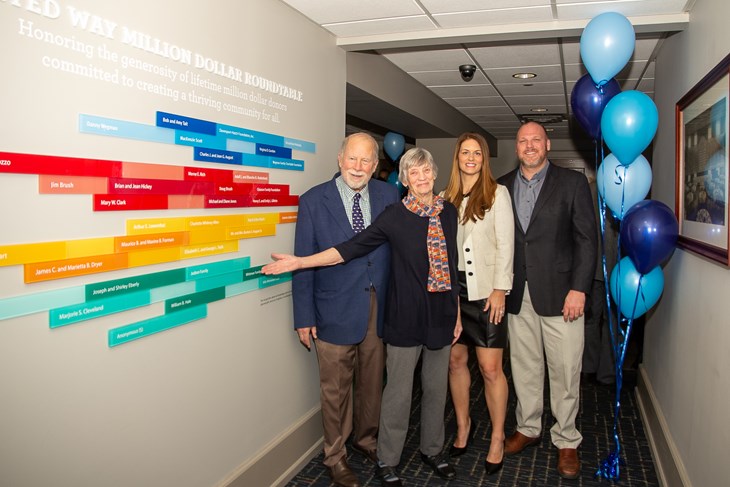 ROCHESTER, NY – On Wednesday night at the Tocqueville Society Kickoff, United Way of Greater Rochester and the Finger Lakes unveiled the Judsons as the latest addition to the Million Dollar Roundtable. The Judsons, including Tom and Ebets Judson, Rufus and Amy Judson, and Mauricio Riveros and Bess Judson Riveros, have collectively contributed $1 million to United Way throughout their tenured involvement.
Established in 2000, the Million Dollar Roundtable acknowledges gifts to United Way of $1 million or more, which are either planned gifts since its 2000 inception, or individual and private family foundation donations.
Pike Construction Services is also celebrating its 150-year anniversary in 2023, and Rufus Judson is the upcoming chair of United Way Board of Directors.
"The work that the United Way does brings people and companies together to build strong communities. The Judson family and Pike Construction Services are proud to do our part in making a difference in our communities through the hard work of the United Way," said Rufus Judson.
"The commitment by the leaders of the Million Dollar Roundtable shows their belief and investment in an evolving United Way and in the community we love," said United Way President and CEO Jaime Saunders. "We are grateful for the Judsons' momentous investment in United Way and our community."
Community members can view the full list of Million Dollar Roundtable participants at United Way's headquarters, 75 College Avenue in Rochester.